Was reinigen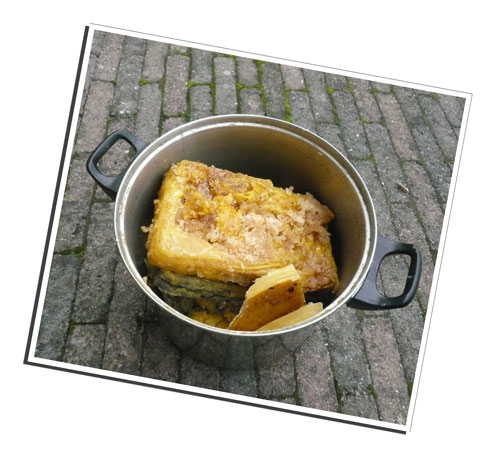 (Let op: deze tips en uitleg zijn voor eigen risico en blijf altijd bij de pan als deze op een warmtebron staat!)
Hoe krijg je bijenwas schoon? Het is en blijft altijd een beetje geklieder, maar met het juiste materiaal en wat ervaring ….. stelt het niets meer voor en heeft iedere imker schone bijenwas.


1.   De was komt uit bijvoorbeeld een zonne- of stoomwassmelter. Deze was is vaak erg vies en er zit veel 'restmateriaal' in.


2.   Om de bijenwas schoon te krijgen verwarmen we deze in een pan. Mijn advies: gebruik een oude pan of koop er een in de kringloopwinkel. Was is erg plakkering en de pan krijg je meestal niet meer helemaal schoon.

3.   Leg alle wasresten in de pan en zorg voor een laag water van ongeveer 5-10 cm in de pan. Hier zakt het 'restmateriaal' in.

4.   Verwarm de pan tot een graad of 70. Nooit warmer dan 90 graden omdat de was dan teveel beweegt en met het water en de restmaterialen mengt.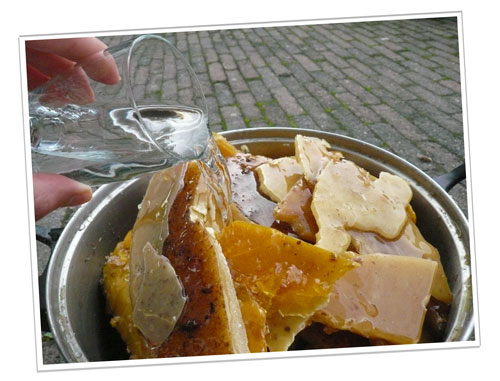 Daarnaast kan de was te warm worden en kan er een spontane ontbranding ontstaan (vergelijkbaar met een 'frietpan' brand). Zorg er daarom ook altijd voor om een deksel en/of branddeken bij de hand te hebben en blijf uit veiligheidsoogpunt altijd in de buurt van de pan.

5.   Als alle was gesmolten is laat je de pan langzaam afkoelen. Doe  dit door de pan in bijvoorbeeld een styropor (piepschuim) doos te zetten, of een andere goed geïsoleerde omgeving. Zo'n 'piepschuimdoos' is vaak te vinden bij een lokale toko. Hier komen de luchtvrachtgroenten in binnen. Dit langzaam afkoelen is essentieel en zorgt er voor dat zelfs het kleinste 'restmateriaal' naar de bodem zakt.

6.   Na 24 uur wachten is de was vaak nog zacht maar wel gestold. Dit is het moment om de was uit de pan te halen. Keer de pan om in bijvoorbeeld de gootsteen. Doordat de was nog zacht is kan de vuile onderlaag er vervolgens makkelijk afgesneden worden. Deze restlaag smelt je gewoon weer een volgende keer opnieuw.

7.   Het blok schone bijenwas kan nu ook nog makkelijk in stukken worden gesneden omdat het zacht is. Je hebt nu mooie schone blokjes bijenwas die je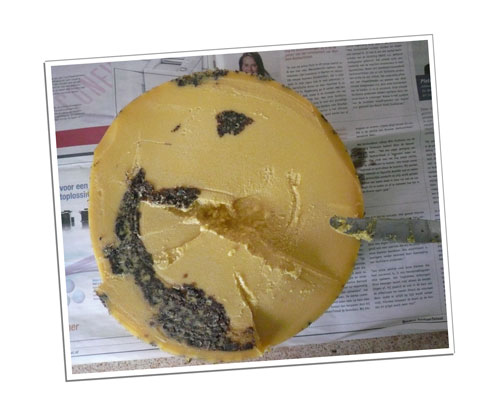 voor diverse andere producten kunt gebruiken. Het  voordeel van kleine stukjes is dat ze, onder andere, makkelijker passen in de wassmelt gietpan, waarmee je kaarsen kunt gieten. Andere tips voor verwerking van de bijenwas: kaarsen, zeep, boenwas, kunstraat en gegoten 'versier' bijtjes. Of kijk in het boek "Creatief met bijenwas" voor heel veel suggesties en een praktische uitleg.